Family board games are a blast right? We really love them. I mean, if you skip gloss over that stage where the kids don't really know the rules or when you have to play Candyland over and over again and 'just one more game' becomes a family motto.
Or the stage where they try to make up their own game rules or where the siblings can't agree on which game we are going to play. Yeah.
Of course, there's also the age old parenting question: Do you let your kids win, or serve them a crushing defeat to teach them a valuable lesson teach them to lose graciously.
Games have been a lot of fun around here. We always bring our mini Snakes and Ladders game with us when we travel. And Spot It! And having a deck of cards around is a necessity. We went through a period where we played UNO every night.
There are games that we stumbled upon that we really enjoy. I love a good game of Battleship, and Guess Who? Is a classic (we have the Star Wars version). The kids LOVE Sorry and that's been a fun one.  Even when the kids were smaller we found favourite games to play. 
Now, after a receiving it for Christmas, we have a new game that is taking up most of our evenings. We've woven it into our bedtime routine – a little healthy competition before bed helps everyone sleep, right?
I present to you the current game obsession that we all love: Monopoly Empire.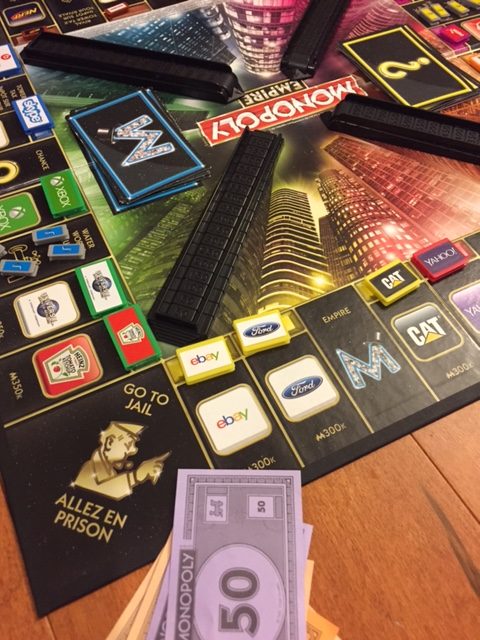 Hold up, parents. Stay with me! I know what you are thinking – Monopoly is a game that can divide families. I get it. It's a game that sometimes feels like there is no end, but don't fear, this isn't your traditional Monopoly.
In this version, you work to buy brands (ones that your family will know like X-Box) and you build up your corporate tower. The games last about 30-40 minutes, requires a little strategy but a lot of luck too as players land on brands, buy them, try to over take other brands, and avoid going to Jail, of course.
Needless to say, I'm happy to recommend this one!
Have you played it before? Does your family have a current board game obsession? Share below!