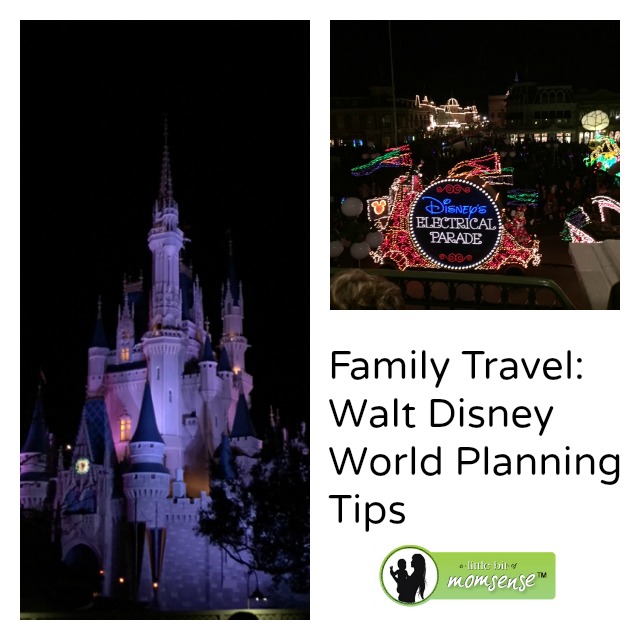 As promised, I'm finally sitting down to write some tips and thoughts about our trip to Walt Disney World.
I'm going to start with a few planning tips. If you are thinking about a trip in 2016 or later this year, hopefully this will help!
Want to know how much we loved it? On Valentine's Day, Andy surprised us by giving us the gift of planning for next year's trip – that's right! We'll be returning in 2016!  I'll be using a few of these tips again myself!
Pick your Date
We wanted to go at a time when it wasn't too hot in sunny Florida but also, and more importantly, when the parks wouldn't be at their busiest (for example, March Break).
After speaking with friends who had gone in January, and checking out some very handy Walt Disney World blogs (like this one and this one), we found links like this one that told us when the busy times were.  While we knew some rides wouldn't be available (a common factor during 'off peak' weeks), this didn't concern us.  We picked January for this reason – it was flagged as a quiet week (and we did notice this).
Book Ahead
Once you decide on your date of travel, you'll need to worry about two major things when planning your trip: How you are getting to Orlando (your travel arrangements), and booking the place you are going to stay.  For the purpose of this post, because it was our experience, I am going to talk about staying at Disney itself. There are many places nearby Disney that you can stay at, but we stayed on a Disney resort.
Because we were wanting to use points to fly there (and save money!) and because we wanted a direct flight if possible, we booked early and used our points for a direct flight.  The flights become available just under a year out from your travel dates.  We checked back often once we were set on the week we wanted.  We booked the flights before booking anything else.
Next, you will want to book your resort stay.  I waited longer than we needed to do this. I kept thinking that a sale or deal would come along, but here's the thing: To book your stay, and guarantee your resort won't be booked up, you only need to put a $200 deposit down. You then have up to about 45 days before your actual trip to make changes.
Here's also what I learned: If a better deal comes up, and there is availability at your resort, you can sometimes get that better deal applied. This is exactly what happened to us. We booked, a better rate was available at a later time, we called and switched it up for a pretty big savings.
Booking your Resort
We ended up staying at Port Orleans Riverside.  We took recommendations from people who had previously been there, searched websites for recommendations, and then looked at the price differences vs the facilities to make our decision.
Here's the long and short of it: You can spend a lot more or less depending on what you need or want. We basically ended up in the middle ground for budget.  Each resort has different restaurants, amenities,  themes, and so on, but ultimately, you need to decide what your priorities are.  We wanted something with easy access to food and transportation (although I would guess most have great transportation to the parks.)
Once we settled on the date, booked our flights and secured our resort, there was not much to do until about 6 months out.
The App
What you should do right away is download the My Disney Experience App (the website is linked as well).  Sign up for an account and set up the members of your travel party. If other adults are travelling, they can sign up for their own account and then you can link them together.  This will give you access, and everyone else you connect with, to your ticket information, booking dinner reservations, making FastPass selections, requesting special room needs and more.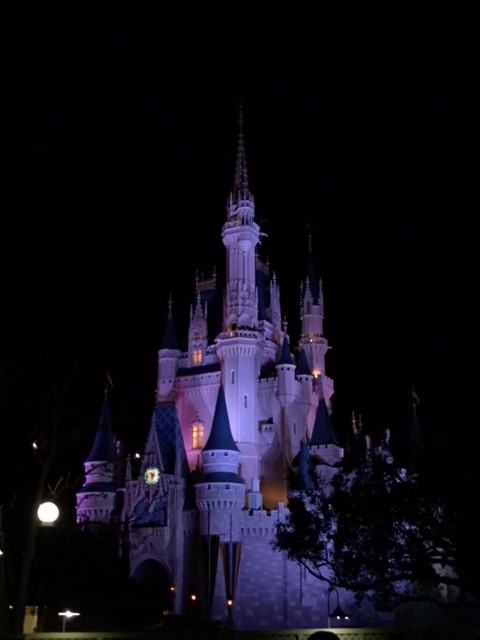 Dining and Food
I'll make a whole post just for dining, but we did opt for the Disney Dining Plan which included a quick service, snack and Table Service each day. Gratuities aren't included, but a main course, dessert and drink are with table service.  A main, drink and dessert is also included in the quick service.  A snack is a variety of things: bakery bites are a snack, Mickey Ice Cream bars are snacks, and fresh fruit is a snack etc.
We spent a lot of time researching dining plans and deciding if it was best for us. I'll outline all my reasons in another post, but ultimately, we all agreed that the plan was perfect for us and we would use it again.
What I do recommend is that you make dining reservations in advance.  These can change right up until the day before your reservation, but some character meals and popular places to eat book up quickly. If you know where you want to eat, book it as soon as you can!
What we did find was that most restaurants took a certain amount of walk-ins the day of, but if you really want to eat with Cinderella, I wouldn't take the chance.
180 days before you will be notified that you can start making your dining selections.  Even if you aren't sure of all of your plans yet, it's worth booking them, especially for the character experiences.
Here's how we did it:
We decided which park we wanted to visit on which day, and then focused on food in or around the park.  If we desperately wanted to eat at a certain restaurant, and the day we planned on being at that park wasn't available, we swapped our park days.  Yes, our trip was heavily planned around food (of course!)
We based our restaurant selections on how many stars they received on Trip Advisor, the menu, the atmosphere and the location.  Menu was very important! Also, some restaurants use up two credits for a meal instead of one, so we were cautious of that. There weren't any restaurants we looked at that didn't have fantastic, varied options for the kids, so it was more about what we wanted to eat.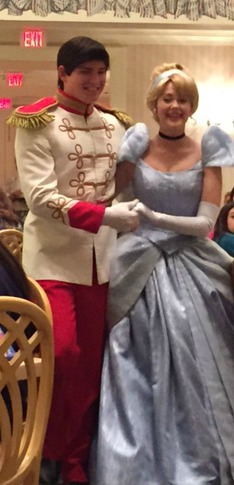 FastPass
You may have heard about the FastPass at Disney.  Basically, it's like a 'cutting the line' ticket that you can plan for.  You get 3 FastPasses per park per day, and there are some limitations. When choosing your FastPass, you are given grouped options, which means you may not get the exact 3 FastPasses you want.
No matter what, USE THEM. Book them as soon as you can (60 days out from your trip). They were amazing for us.  Now, we had very few 'must do' things on our list. This was the first time for the kids and Andy to go, so anything we did was exciting, however, there are some things that have huge waits.
We FastPassed a meet and greet with Anna and Elsa which was very much worth it. Same with the Dwarf Train ride. These are very popular.  Once you decide your priorities, plan to go for those.  We FastPassed some shows (Indiana Jones was worth it!) but likely didn't need to for all of them because we could have gotten seats anyway.  We also FastPassed a fireworks show, which meant were entered a premium location near the castle with lots of space to watch them.  This wasn't necessary, but at the same time, we were happy to have done it.
I stayed up until 1 am to try and FastPass (Anna and Elsa are hard to get!) and the system wasn't ready yet, so I bailed, woke up at 6:30 and got in. I actually didn't get the first date I wanted for them (they were booked already!) but did get our additional date since we doubled up on visiting Magic Kingdom. That's how popular they are.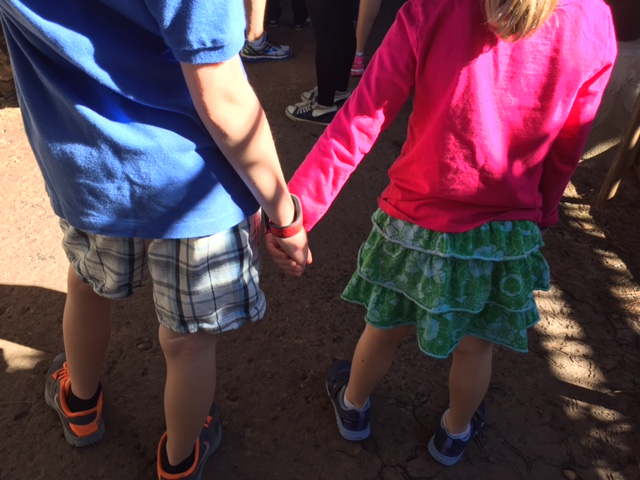 A few other notes:
Magic Bands are amazing. They aren't mailed to Canadians ahead of time, but you get them at check in, and with your My Disney Experience App or web log in, you can customize them with your names, colours etc. They link up to your credit card too. You can pay for merchandise with them, use them for your meal plan etc. We didn't need to carry wallets.
The Magical Express (which my son called the Evil Express upon leaving because it was going to take us home) is your transportation to and from the airport and resorts.  It's easy to find at the Orlando airport, but they do pick you up on your day of departure about 4 hours before your flight time.
If you've been reading this blog for a while, you know that we travel with the kids quite a bit, but that we take rather relaxing vacations.  A lot of downtime is involved.  We weren't sure how Disney would be for us since we are crowd-avoiders usually, however, thanks to the time of year we went, plus some great planning (and a little luck), it turned out to be amazing.
We ran the kids pretty hard some days with a few very late nights, but what we decided to do was sleep if we needed to sleep. That is, there were no days that we got to any park before it opens. For some, this isn't great planning since it's quiet first thing and you can get to some rides quicker, but for us, the extra leisurely morning set us up well for a really great day. Know your kids and take breaks when you need to.
You will NOT get to see everything at Disney in a week. It's impossible, so pick your priorities, expect some surprises and know that because you won't cover it all, you should just enjoy what you can!
I'll have more about food in another post! That deserves its own! Plus, some tips for planning out the week and our favourite rides and shows.
Have questions? Ask away!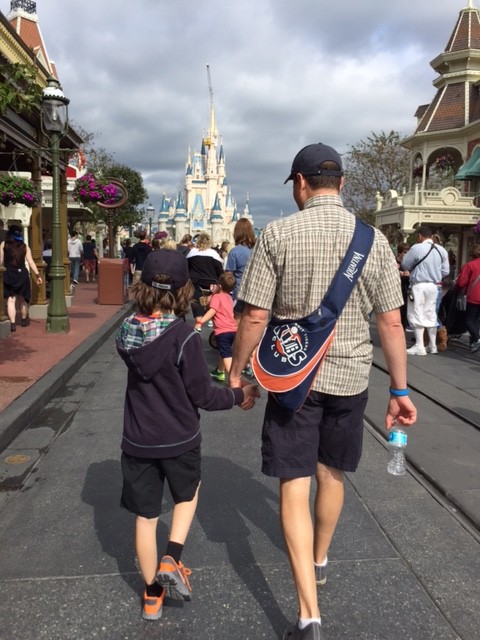 Pin it!